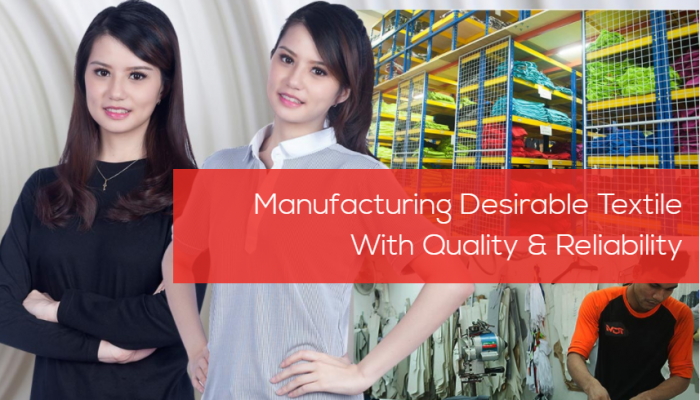 Modern Day Textile : Silkscreen Printing Service
MDT (Modern Day Textile) Garment began operations in 2012 as an expert garment maker specializing in producing customized and readymade uniforms and attire for business and leisure. MDT was the Uniform and T-Shirt Supplier Malaysia that offers comprehensive services for apparel manufacturing, from apparel design to finished goods. MDT Garment focuses on attaining recycled traditional fabrics sourced from around the world and transform them into timeless, wearable collections. They believe in product recycling and effective waste management in order to play a part to green our planet. They are accessible through our branches domestically throughout East and West Malaysia and also internationally, focusing mainly in Southeast Asia.MDT work to ensure the production of high quality fabrics.
MDT Garment is designed so that they are adjustable to the ever changing needs and wants of the customer. Each and every order is made with care in their ethically run garment factory. MDT Ready Made is a type of garment that already been custom by MDT itself. It includes the F1 Shirt, F1 Muslimah, Polo shirt, and Round Neck Shirt. They come in many size, materials and sleeve. As the leading garment manufacture in Malaysia, MDT produce quality business wear and streetwear, to tailor-made apparels and uniform. With MDT Custom Made give the customer to construct their own design by includes the professional pattern makers and grades that will transform your ideas and design to ensure the detailed production of your garment.
MDT also possesses a service of uniform manufacture. The service includes Bulk Sewing, Customize Tailoring and Alteration, Customize Templates and many more. MDT also provides a Silkscreen Printing and Embroidery service. Silkscreen printing is a stencils method that involves printing ink through stencils that are supported by a porous fabric mesh stretched across a frame called a screen. Silkscreen Printing is ideally suited for bold and graphic design. Embroidery is the method for decorating fabrics with a needle and a threat. Embroidery can be done by machine or hand. It may also incorporate other materials such as pearls, beads, quills, and sequins. Now, embroidery is regularly observed on school badge tops, caps, coats, covers, blankets, dress shirts and many more.
Modern Day Textile factory is capable in taking on bulk orders and producing high quality garments of any style and design. Sourcing for a uniform factory is not difficult, but it is extremely difficult to find a factory that is reliable, flexible and cost effective. MDT factory production include in fashion clothing, custom-made clothing, wholesale clothing, medical, nurse, hotel and restaurant clothing and also promotional clothing. MDT has worked hard to develop, fulfil and deliver the best quality garments for its customers and hence, achieving the company's principle of ensuring ultimate customer experience.